Sarco's Hot Links
Sarco's may hold a special place in everyone's hearts, but there are plenty of other wonderful places in this great food-loving country of ours that deserve praise.
Other Fine Sarco's Establishments
Many of these places are no longer with us, but Sarco has always shown the entrepreneurial spirit.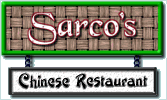 Sarco's Chinese Restaurant
"Once one of the best little-known purveyors of inauthentic fine dining in the San Francisco area, tastefully decorated with antiques and murals imported directly from Wisconsin. I heartily recommend the Faux Beef and Boy Sprouts platter, or the Sweet and Sour Student Tray."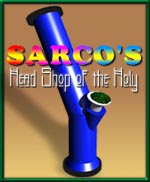 Sarco's Head Shop of the Holy
"Originally opened in 1967 as a used record store (then known as Sarco's House of Wax), Sarco's H.S.o.t.H. gained considerable notoriety in a short time, particularly after it began carrying colorful 'psychedelic' clothing and recreational paraphernalia from such manufacturers as Electric Lettuce and Dead Soul Pop."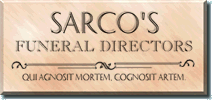 Sarco's Funeral Directors
"There's no time like the present. Once within these discreet hallways, you'll feel compelled to make arrangements. For yourself. For your loved ones. For peace of mind. When it comes to the afterlife, Sarco's helps you get your start."
"You stab 'em, we slab 'em."

Sarco's Discotheque of Love
"Sarco's couldn't let the hedonistic '70s pass by without catching the groove. Sarco's Discotheque of Love was built on the remains of the original Dead Lounge in Pasadena, California, but failed to last long after 1981. Due to a resurgence of interest, there are plans to build a 'Dead Club 70s' in Hollywood."