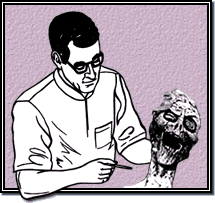 Does your mouth suffer from the stench of the grave? Do you have a difficult time finding a dentist you can trust, who's open late? Then come in for a free examination! Our services include preventive and restorative care, ultrasonic cleanings, cosmetic dentistry (sorry, no Dracula wannabes), and surgery conducted by trained dental professionals who care. Canines and incisors are our specialty!
Call any time for an appointment. Open 24 hours a day for your convenience.
Dr. Black is a proud member of the Alternate Orthodontic Association.
We follow The American Gothic Dental Association and OSHA's Infection Control Guidelines.
Cost reduction program available for students of the black arts, cash patients, and Elders.
Sorry, patients suffering from lycanthropy may not be accepted due to health reasons.
We Accept The Following:


Shadow Cove Medical Group
2323 Impacted Parkway Suite 111
Morbid Canyon, CA 92316
Phone: 1-800-4RFANGS
E-Mail: